CCAC Celebrates 2023 Commencement at Acrisure Stadium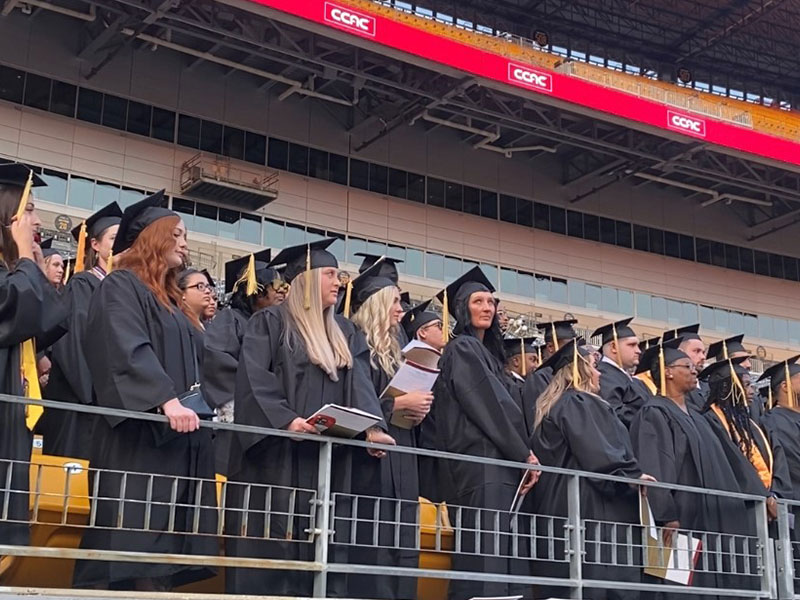 PITTSBURGH
The Community College of Allegheny County conferred degrees, certificates and diplomas on nearly 350 attending graduates at its 56th annual Commencement ceremony, which took place at Acrisure Stadium on Thursday, May 18, at 7:00 p.m. Family members, friends, faculty and staff gathered to recognize the participating graduates.
The CCAC Class of 2023 comprised graduates earning Associate of Arts and Associate of Science degrees, certificates and diplomas from among the nearly 150 programs the college offers. A total of 2,972 CCAC students were candidates for graduation.
Individuals who offered congratulatory messages to the Class of 2023 included County Executive Rich Fitzgerald, who gave the commencement address; CCAC President Dr. Quintin Bullock; CCAC Professor of English & Grand Marshall Stephen Wells, PhD; CCAC Board of Trustees Chair Kevin P. Kinross, JD; CCAC Vice President & Chief of Staff & Interim Provost Frank Sargent, EdD, JD; CCAC Associate Professor & Counselor Lisa Slagle; CCAC Associate Vice President of Student Success Services Mary Lou Kennedy, EdD; CCAC Bursar Kenneth Bush; Member of the CCAC Educational Foundation Board of Directors & CCAC Alumna Roseann Ferrara-Love; and CCAC Student Trustee & 2023 Graduate Jessica Wheeler.
CCAC commencement photos and videos will be posted on facebook.com/ccac.edu and instagram.com/ccac.edu.